As an automotive enthusiast, you already know that there is nothing better for tackling the toughest terrain and weather conditions than an all-wheel-drive (AWD) car. With its advanced technology and superior performance, an AWD car is the perfect choice for those who demand the best handling, stability, and control on any road. But with so many options available in the market right now, choosing the best AWD car can be a daunting task. In this article, we will present you with some of the top-rated AWD cars in the industry, to supplement what you can learn from the VIN check report, make an informed decision, and invest in a vehicle that meets your needs and expectations.
Best AWD Cars for All-Around Situations
When choosing a car, it's important to consider factors like performance, safety, and versatility. One type of car that ticks all these boxes is an all-wheel-drive (AWD) vehicle. AWD cars offer excellent traction and stability in any driving condition, making them a solid choice for all-around situations. Whether you're commuting to work, running errands around town, or heading out for a weekend adventure, an AWD car can handle it all with ease. The following are some of the Best AWD cars for most driving situations.
Toyota Camry
The Toyota Camry is a top choice for anyone looking for an all-around AWD car that is reliable, efficient, and stylish. This midsize sedan offers a plethora of advanced features, including a powerful hybrid powertrain, a spacious and upscale cabin, and excellent safety ratings. The 2023 Toyota Camry's AWD system delivers confident handling and better traction over uneven surfaces in all weather conditions, making it an ideal vehicle for drivers who live in regions with harsh weather. This car also boasts impressive fuel economy, with the hybrid version delivering up to an EPA-estimated 52 mpg combined, which makes it a great option for those who prioritize fuel efficiency. Suffice to say, the Toyota Camry is a versatile and practical car that excels in almost every aspect and is hard to beat in its class.
Audi A6
The Audi A6 is one of the most compelling options in the all-wheel-drive car category. With its refined and elegant design, it provides an overall sense of luxury that is unmatched by the competition. Furthermore, its powerful engine options and advanced suspension system make it an excellent performer, as it delivers impressive acceleration and responsive handling. The A6 offers spacious and comfortable interiors which are packed with top-notch infotainment features — an ideal choice for long drives. The integration of advanced driver assistance technologies in the A6 enhances its safety features, resulting in a commendable safety record. In general, the Audi A6 stands out as a highly versatile and dynamic car with a perfect balance of luxury, performance, and safety.
Toyota Prius
The Toyota Prius boasts impressive capabilities and features that make it a top choice for all-around situations. With an AWD system that is available, the Prius ensures maximum traction and stability, which is ideal for driving on slippery roads or uneven terrain. Moreover, the Prius has a powerful gas-electric hybrid engine system that delivers excellent fuel economy, making it an ideal car for long-distance trips. Additionally, the car's cabin is spacious and well-crafted, featuring modern amenities and technologies that ensure comfort and convenience even during extended drives. Safe to say, the Prius is a highly practical and efficient car that is perfect for anyone looking for a reliable all-wheel-drive vehicle that can handle any driving situation.
Honda CR‑V
The Honda CR-V remains a top choice among compact SUVs due to its all-around versatility, reliability, and fuel efficiency. Equipped with a capable all-wheel-drive system and a slew of technological features, the CR-V boasts a comfortable ride and impressive cargo capacity, making it a great choice for families and outdoor enthusiasts alike. Additionally, the CR-V has consistently been recognized for its high safety ratings, low cost of ownership, and overall performance, cementing its status as one of the best AWD cars for all-around situations.
Subaru Impreza
The Subaru Impreza is a versatile all-wheel-drive car that is perfect for all-around situations. With its standard all-wheel drivetrain, it offers excellent traction and stability on all types of roads and weather conditions. The car has been redesigned to offer exceptional safety features and technology, making it one of the safest cars in its class. Its fuel efficiency is also in the top tier for compact cars, with 28 mpg city and 36 mpg highway. In terms of dimensions, Impreza has a spacious and comfortable interior with superior infotainment systems, providing ease and comfort to the driver and passengers. The Impreza has consistently ranked highly in its class for reliability, practicality, and affordability, making it a top choice for the everyday driver.
Best Used Cars with AWD (For All Seasons!)
The Best Used Cars with AWD tend to have some of the best value for the price. AWD cars tend to hold their value well over time, thanks to their much-appreciated performance, reliability, and safety features. By buying a used AWD vehicle, you get immense benefits at a fraction of the cost of a new car, making it an excellent investment that can serve you well for years to come. The following list includes some of the best used AWD cars for all seasons.
2018 Subaru Outback
The 2018 Subaru Outback stands out from the competition as one of the best all-wheel drive vehicles for all-around situations. With its crossover SUV design and standard all-wheel drive, the Outback is perfect for adventurous families. Its spacious interior can accommodate up to five people, with ample cargo space for all your gear. The Outback's powerful engine, fuel efficiency, and high safety ratings make it great for daily commutes and longer road trips. It also offers up to 8.7 inches of ground clearance, allowing for off-road capabilities. All in all, the 2018 Subaru Outback provides a versatile and practical choice for those seeking a reliable and capable AWD car.
2019 Nissan Rogue
The 2019 Nissan Rogue is a standout among all-wheel-drive vehicles due to its versatility and outstanding performance. Equipped with a 2.5-liter four-cylinder engine, the Rogue offers impressive fuel economy and a smooth, comfortable ride on both city and highway roads. It also features a responsive all-wheel-drive system that automatically adjusts to changing road conditions, providing excellent traction and control in snow, rain, and uneven terrain. Moreover, the Rogue offers a spacious and well-designed cabin with ample cargo space, modern technology features, and advanced safety systems that make it a top choice for families and adventurous drivers alike.
2012 Toyota RAV4
The 2012 Toyota RAV4 boasts an impressive combination of reliability, practicality, and versatility, making it an excellent choice for drivers seeking an AWD car that can handle all-around situations. As noted, the RAV4 has a spacious cabin with plenty of legroom and cargo space, making it ideal for families or those who enjoy road trips. Furthermore, the RAV4's AWD system provides exceptional traction and stability in various driving conditions, such as snow, rain, or rough terrain. On the other hand, praises the RAV4 for its strong fuel economy, responsive handling, and comfortable ride quality. Ultimately, the 2012 Toyota RAV4's combination of reliability, spaciousness, and AWD capabilities make it a top pick for those seeking a versatile AWD car that can handle various driving conditions.
2017 Hyundai Santa Fe
The 2017 Hyundai Santa Fe is one of the best AWD cars on the market today for several reasons. Its AWD system is capable of sending up to 50 percent of the engine's torque to the rear wheels, providing outstanding handling and traction in any weather. In addition, the Santa Fe also has a spacious and comfortable interior with plenty of high-tech features, making it an excellent choice for families and road trips. Its reliability and affordability make it a popular choice among buyers, as evidenced by positive reviews on websites like Edmunds and TrueCar. Undoubtedly, the 2017 Hyundai Santa Fe is an excellent choice for anyone seeking a versatile, reliable, and comfortable AWD vehicle.
2015 Lexus RX
The 2015 Lexus RX is a top choice for those seeking an all-wheel drive SUV. With a powerful V6 engine delivering 270 horsepower and a comfortable, refined cabin, this luxury crossover is both practical and luxurious. Its precise handling and high-tech features, such as the standard rearview camera and 12-speaker audio system, are just some of the many reasons why the 2015 Lexus RX is highly regarded. What's more, it has received high safety ratings and boasts impressive fuel economy for its class. All these have established that the 2015 Lexus RX is one of the best AWD cars on the market, delivering a perfect blend of performance, luxury, and safety.
Best AWD Cars Under $20k
The Best AWD Cars Under $20k are your ultimate bang for the buck because of the unbeatable combination of affordability and practicality they offer. You get the all-weather capability that you need to take on any road condition, paired with the reliability and efficiency that you expect from a well-made car. Whether you are commuting to work or exploring the great outdoors, these cars give you peace of mind and a sense of adventure that will make every drive an enjoyable one. If you are looking for a vehicle that will give you more for your money, then the Best AWD Cars Under $20k below are the way to go.
2017 Honda CR-V
For under $20k, drivers in search of a dependable, multi-purpose all-wheel-drive vehicle need look no further than the highly regarded 2017 Honda CR-V. Fueled by a turbocharged engine and seamless continuously variable transmission, this versatile SUV boasts remarkable acceleration and nimble handling, regardless of the terrain. Inside, passengers are treated to a spacious and elegant interior, offering ample space for both people and cargo. Furthermore, its state-of-the-art safety features, which include lane keeping assist and forward collision warning, work to prevent accidents before they even occur. In spite of whatever drawback the model has, the 2017 Honda CR-V is an outstanding value for drivers in search of a trustworthy and fashionable all-wheel-drive SUV.
2010 Audi A4
The 2010 Audi A4 is one of the best AWD cars under $20k due to its exceptional performance and luxury features, including a modern design and comfortable interior. It has a turbocharged engine that delivers power efficiently while being fuel-efficient on the road. Moreover, the all-wheel-drive system is impressive to handle various weather conditions, offering better handling and stability on slippery surfaces. Additionally, it is remarkably reliable, with high safety and crash test ratings, making it an all-round practical vehicle for everyday use.
2017 Subaru Impreza
The 2017 Subaru Impreza is a remarkable AWD car under $20k, thanks to its exceptional reliability and low upkeep costs. Many experts have lauded the Impreza, giving it high marks in reliability tests and boasting that it requires minimal maintenance over time. The Impreza also boasts a superior interior, a seamless ride, and user-friendly tech features that have been praised by many critics. Specifically, Cars.com puts the focus on the Impreza's top-notch safety ratings and fuel efficiency, which are both incredibly impressive and illustrate why it's an excellent choice for budget-conscious buyers. On the whole, the 2017 Subaru Impreza is a fantastic buy with a perfect blend of reliable technology, features, and affordability, making it a top candidate in its category.
2016 Toyota Camry
The 2016 Toyota Camry is an excellent choice for a reliable AWD car under $20k, highlighted by its comfortable ride, fuel efficiency, and spacious interior. Its strong base engine offers a smooth and quiet driving experience, while also boasting superior safety ratings. On top of that, this vehicle has top-notch resale value and an excellent value proposition for those in the market. Having said that, the 2016 Toyota Camry is a smart investment and a great option for those looking for a quality AWD car at an affordable price.
The Best AWD Sports Cars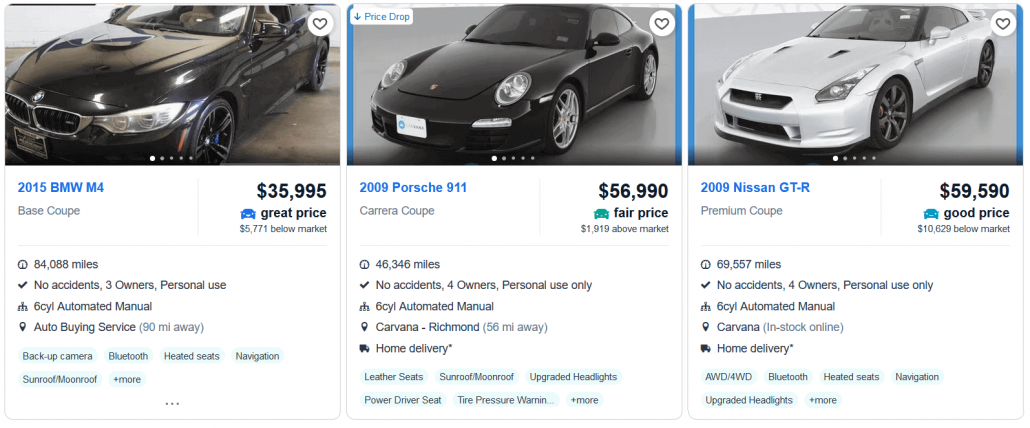 When it comes to performance on the road, all-wheel drive (AWD) sports cars offer unparalleled handling and traction, making them ideal for both racing and everyday driving. AWD sports cars deliver a unique driving experience with enhanced control and agility, making them the perfect choice for car enthusiasts who want to experience the thrill of driving a high-performance vehicle. This makes them an excellent investment for anyone looking for a fun, exciting, and reliable driving experience. In no particular order, we recommend the following AWD Sports Cars.
BMW M4
The BMW M4 is undeniably one of the best AWD sports cars on the market today. With its powerful 503-horsepower engine, cutting-edge AWD system, and lightning-fast acceleration from 0 to 60 mph in just 3.5 seconds, the BMW M4 combines raw power and precision handling to give drivers an unrivaled driving experience. Additionally, innovative technologies like M xDrive with Active M Differential and Adaptive M Suspension bring the BMW M4 to the cutting edge of performance and driving dynamics. The BMW M4 is definitely a car that delivers pure driving excitement and style, making it a top contender among sports car enthusiasts.
Porsche 911
The Porsche 911 stands out as one of the finest all-wheel drive (AWD) sports cars on the market today, delivering a blend of remarkable handling and superior power. This car is engineered to make an impression, providing a range of AWD models to choose from that cater to each driver's specific needs and preferences. Whether it be the Turbo S or the Targa 4, each unique 911 model delivers a distinctive performance and style. Furthermore, Porsche's dedication to engineering and avant-garde technology assures drivers of an outstanding and secure driving experience. All in all, those seeking an AWD sports car that embodies style, performance, and dependability will undoubtedly find the Porsche 911 worthy of contemplation.
Nissan GT-R
The Nissan GT-R is one of the best AWD sports cars, known for its incomparable acceleration, handling, and high-performance features. The GT-R is equipped with a 3.8-liter V6 engine capable of producing 565 horsepower and 467 lb-ft of torque, allowing it to accelerate from 0 to 60 in just 2.9 seconds. Its advanced all-wheel-drive system provides exceptional grip and handling, making it ideal for high-speed driving and aggressive cornering. In addition, the GT-R features premium interior features and cutting-edge technology, making it a top choice for car enthusiasts and sports car aficionados alike.
Tesla Model S
The Tesla Model S is undeniably one of the best AWD sports cars on the market. The vehicle boasts a top speed of 163 mph, going from 0 to 60 mph in just 2.4 seconds with a range of up to 402 miles on a single charge, according to the official Tesla website. Its impressive acceleration is thanks to its 825-hp powertrain and electric motor, making it competitive with some of the fastest gasoline-powered vehicles. Many automotive review sites laud the Model S as the most advanced electric car and the best four-door luxury sports sedan. It is often ranked as one of the best electric luxury cars, citing impressive performance and handling as well as its sleek design and practicality. In short, the Tesla Model S is an ideal choice for those seeking a powerful and luxurious electric AWD sports car.
Ford Focus
With its exceptional combination of precision handling and high-performance capabilities, the Ford Focus stands out as one of the best AWD sports cars available. The RS model is powered by a four-cylinder engine that cranks out an impressive 350 horsepower and 350 lb-ft of torque, making it one of the strongest cars in its class. Equipped with an advanced AWD system, this beast can go from 0 to 62 mph in just 4.7 seconds, and boasts an impressive top speed of 165 mph. The Focus' super-responsive steering and firm ride deliver an outstanding driving experience, as evidenced by glowing reviews from popular automotive publications like Top Gear.