7 Best Carfax Alternatives To Check Vehicle History Reports In 2022
There is a good reason why "Carfax" is almost synonymous with "car reports." Many even conflate these words to form "
Carfax reports
." 
Carfax has been an excellent source for vehicle history
since the 80s
. And its reputation as a go-to for car reports and premium
VIN checker
is well-deserved. 
However, unlike in the past, Carfax now finds itself in a more competitive market with emerging carfax alternatives that are great in their own right. 
Sometimes, Carfax alternatives can prove superior to Carfax, value-wise.
Not everyone is a fan of Carfax's usual rates for history reports. Others find their charges pricey for the service they offer. Some are not fond of their report's general outline, finding them confusing. 
With that said, it is easy to see why being an alternative to Carfax can make perfect business sense. The chance to compensate for its inadequacies, such as being a cheaper alternative to Carfax, can appeal to many disgruntled buyers. 
If carfax quality is much to be desired for you, do not hesitate to try out these best carfax alternatives you can find on the internet right now.
1. VinCheck.info
Founded in 2017, VinCheck.info has quickly caught up with the competition, offering a promising 10-page report to anyone who avails of its car reporting services. 
VinCheck.info is possibly the next closest thing to a free Carfax right now. And here is why;
It is quick, easy, and simple to use. No subscription or credit card is needed. It does not oversell either, unlike other Carfax competitors.
You are not limited to either VIN or license plate number only — VIN check, VIN decoder, and license plate lookup, among others – make sure that you have multiple data mining tools at your disposal. 
VinCheck.info reports are sourced from many private and government entities, assuring that you get the best possible information on a car in real time. 
All these ensure you only get the most comprehensive, up-to-date data, making VinCheck.info, beyond any doubt, a great alternative to Carfax. 
A typical VinCheck.info report contains a general outline of the following data types;
Theft, Salvage, Sales Records

Sales Records

Accident, Flood Check Records

Market Value

Ownership Cost

Vehicle Specifications

Equipment Details

Fuel Efficiency

NMVTIS Data

Fuel Efficiency

Safety Rating

Inspection Checklist

Recalls & Defects

Auto Insurance
VinCheck.info's web design is as clear as day. Its content is organized in order of importance, plus the text is easy to read. If meaty car reports are what you are after,
enter the VIN here
for more!
2. VinAudit.com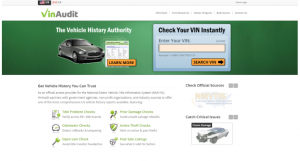 VinAudit.com, launched in 2012, is a solid choice for a Carfax alternative. The car report provider intends to deliver reports with Carfax-like quality at heavily discounted prices. 
In one estimate, one VinAudit.com report can be 800% cheaper than a single Carfax report ($39.99 versus $5.00). 
Best of all, their subscription-based service can easily blow Carfax out of the water. 
Once you register with their $20 per month service, you can read as many vehicle history reports as you like.
These are clear proof that getting 60 + title checks across 28 million super-reliable documents does not have to be expensive. 
Besides VIN Check, VinAudit also offers unique resources rarely found anywhere, which, to name a few; 
VIN audit tools like Market Value and Ownership Cost calculators

Car Buyer and Seller Checklists to track your progress

A downloadable link for a Free Vehicle Bill of Sale Template for faster and more convenient car sales. 
A typical VinAudit report may feature the following content;
Vehicle Specifications

Odometer Checks

Title Records (60 + title brands)

Junk, Salvage, Insurance Records

Accident Records

Theft Records

Lien, Impound, Export Records

Salvage Auction Records

Sales Records

Supplemental Resources (e.g. Market Value, Ownership Cost)
Have you seen
VinAudit.com's sample report
? If you are happy with it and want the real deal,
click here to order and view a report
. 


Vehicle.report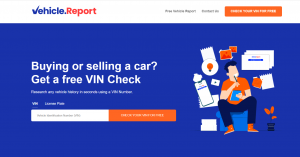 The online vehicle research service, Vehicle.report, was recently launched in 2021. Nevertheless, it has already made its presence felt in the car report industry. 
Vehicle.report has gone the extra mile to make learning about cars as reasonably punctual as possible.
Its primary selling point is to cover its operating cost through advertisements while giving away free car reports to everyone in need of vital information. 
More importantly, visitors may also freely take advantage of their car buying resources like; 
Free VIN Check

Free VIN Decoder

Free License Plate Lookup (for parties without access to the VIN)
Is Vehicle.report worth it? Absolutely! Its user-friendly service and top-notch-quality reporting make it a high-value proposition for buyers and sellers alike. 
Below are the critical details featured by Vehicle.report's car data; 
Vehicle Specifications

Critical Issues

Recalls and Defects

Sales Records

Market Value

Ownership Cost

Equipment Details

Fuel Efficiency

Safety Rating

Inspection Checklist

Vehicle Timeline

Title History

Auto Insurance
Vehicle.report's simple and easy-to-follow design helps minimize data consumption and makes it easy to do background checks. With it, you can maximize your limited data while car shopping. The only way for you to confirm it is true is to get
vehicle reports
now!
AutoCheck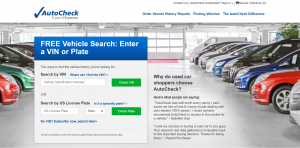 Carfax's oldest rival is AutoCheck. Like Carfax, it offers premium prices, albeit at a much lower range. 
AutoCheck reports show a similar layout to Carfax reports. Its most distinguishing feature is the AutoCheck score, which has no equivalent in other Carfax competitors. 
The AutoCheck score serves as a quick, general indicator of the overall state of the vehicle. The higher the score, the higher the predicted reliability of a car.   
Now, let us compare the prices of AutoCheck with Carfax's; 
$24.99 is the standard cost for a single AutoCheck report, which is 40% cheaper than the Carfax equivalent ($39.99). 
Meanwhile, AutoCheck's $49.99 order delivers 25 car reports — a much better deal than Carfax's $59.99 order for three reports. 
A much more outrageous comparison is the $99 order. For AutoCheck, it is equivalent to 300 reports. In contrast, Carfax only offers six reports for this price. 
Based on these figures, there can be no doubt that AutoCheck is a great Carfax competitor since they beat Carfax easily in terms of output. 
As for quality, it is debatable which one is better. Some say Carfax's generally more comprehensive reports are the better bang for the buck, while others say Carfax is overhyped. In the end, it probably depends on a case-to-case basis. 
A generic AutoCheck vehicle history report may show the following:
AutoCheck Score

Title Brands

Ownership History

Vehicle Use

Accident Check

Brand Check

Specific Event Check

Odometer Check

Open Safety Recall Check
Find out if AutoCheck has historical records for your chosen cars by
copy-pasting the VIN on the main page
. 
5. VinCheckPro
VinCheckPro claims to provide comprehensive vehicle information minus the expensive price tags found in more established car report providers. 
The web design is commendable, the content is easy to read, and the colors are not painful to the eyes; a cheaper alternative to Carfax that has not cheapened out on basic customer service. 
And like the other car report providers mentioned earlier, VinCheckPro.com comes with Free VIN Check and License Plate Search. 
You can use either tool to generate a vehicle history report, which provides a background on;
Critical Issues

Sales Records

Vehicle Specifications

Warranty, Maintenance, Insurance

Inspection Checklist

Title History

Timeline

Additional Resources (links to other helpful sites)
If none of the Carfax alternatives have been to your liking so far, you may fall in love with VINCheckPro's take on vehicle history.
Run the VIN on the main page
and see. 
6. NICB VINCheck Lookup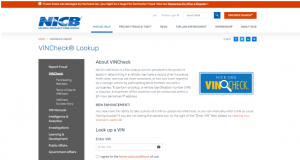 The National Insurance Crime Bureau (NICB) claims to be "the country's leading NGO dedicated to preventing, detecting, and defeating insurance fraud and vehicle theft."  
Using their access to massive volumes of data, the organization operates its own VIN search tool to spread awareness on vehicles tagged under 'motor vehicle theft' or 'salvage record' claims. In these aspects, it has the best claim to being the best Carfax alternative. 
The VIN check is free, but users are limited to five entries every 24 hours.  
To reiterate the pros of NICB VIN Check;
It is free to use until you hit the five-entry limit that resets every 24 hours

It uncovers vehicle theft claims 

It uncovers salvage record claims 
Want to test this Carfax alternative? Visit the
free VIN lookup
page. 


NHTSA Safety Recalls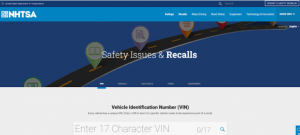 The National Highway Traffic Safety Authority (NHTSA) is an agency under the US Department of Transportation dedicated to minimizing the casualties and incidents of motor vehicle crashes. 
NHTSA runs a free VIN check for recalls, and here is what you need to know about it;
What the recall check recognizes:
Major recall campaigns in the past 15 years

Major recalls of 64 big automakers and manufacturers

VINs from passenger cars, motorcycles, and trucks




What the recall check does not recognize:




Some recall campaigns over 15 years ago

Minor non-safety recalls

Recalls by minor automakers and manufacturers




If you are concerned about recalls and no Carfax competitor has satisfied you on your search thus far,

check out this ideal alternative to Carfax

instead!





Do you know of any other Carfax Competitor not included in the list? Which do you think deserves an honorable mention on the list? Please tell us in the comments below.



Thinking about selling your car? It may seem like a complicated process upfront, but once you know what documents you need and how to get started, you may find out that you can sell your car in just a few simple steps. If you're looking for all the information you'll need when you want to sell your vehicle, you've come to the right place!
What to do with your Car Title Before Selling Your Car
Before you begin the process of selling your car, it is important to confirm that your vehicle is completely lien-free, so that the car buyer will be confident in buying your car. When a car has a lien, this means the vehicle is technically owned by more than one party. People might have a lien on their vehicle if they are still paying off the purchase of their car with an auto loan. Or, if you've ever had car title loans, you will know that title loan lenders will place a lien on a vehicle when they approve funding.
If your vehicle has a lien, you cannot legally sell that vehicle until the lien is removed and you are listed as the sole owner on the vehicle title. To confirm your vehicle title is free of any liens, you can enter your Vehicle Identification Number (also known as the VIN) into the online VinAudit report tool. After you enter your VIN, you can retrieve a vehicle history report that will show your car's history including your vehicle specifications, title records, and past issues such as accidents and theft, as well as confirmation whether or not the vehicle has a lien.
It's a good idea to have formal documentation of your vehicle history before you sell your car because anybody looking to buy your vehicle is likely to request this information right away. It is common to want all the information about a vehicle's history before acquiring it or using it as an asset. For example, before title loan lenders like LoanMart accept a vehicle as collateral for auto title loan funding, they will run a VIN Check with the help of a service like VinAudit to make sure they have the most up-to-date and accurate data about a vehicle and its history.
Since everyone from large companies to individuals can run a vehicle history report for your car on their own, it would be smart to have already done this for someone looking to potentially purchase your vehicle. The more upfront you are about the facts related to your car, the more comfortable people will feel about buying from you.
Documents You Will Need When You Sell Your Car
While pulling a vehicle history report on your car is the best first step when looking to sell your car, it is not a required document. There are, however, other documents that are required when selling your car.
Unless your vehicle is covered by an exemption, for example based on its age or weight, one of the required documents you need when you are selling your car is an odometer disclosure. Because of the Truth in Mileage Act enacted in 1986 by the United States Congress, anybody looking to sell their vehicle may need to provide an odometer disclosure with the following information:
Year, make, model, and VIN of the vehicle being sold
An accurate reading of the mileage on the odometer at the time of the vehicle sale or title transfer
The buyer's name and address
In addition to the odometer disclosure, you will also need to provide the title to the vehicle when selling your car. To make a private sale of a car official, you will need to transfer the vehicle title to the person who is buying your car. After that, the buyer can opt to have a new title issued specifically in their name. To transfer a vehicle title, it might be a wise choice to complete the process at your local Department of Motor Vehicles. From there, a DMV associate can walk both the vehicle buyer and seller through the process of transferring the vehicle title to the car's new owner!
Once the sale of your vehicle is complete, the last document the buyer needs is a Bill of Sale to show that the vehicle has been purchased legally.
Checklist for Selling Your Car
Selling your car doesn't have to be a daunting process when you know what to do. Check out this helpful checklist you can follow if you're looking to sell your car:
1.Get the Value of your Vehicle and a History Report – You can get current estimated market prices of your specific car using tools such as Kelly Blue Book. At that point, you can consider other damages, issues, or modifications you've had done to your car to help determine a selling price you want to offer.
2.Take Pictures of Your Car and Prepare it for Sale – After you know the price you're looking for on your vehicle, the next step is to give your vehicle a thorough wash inside and out to make sure it is looking its best. Then you want to take several pictures of the inside and outside of your vehicle, so potential buyers can get a general idea of the vehicle and its condition upfront.
3.Advertise the Sale of Your Vehicle – There are several different ways you can go about advertising the sale of your vehicle. One option is to simply post a for-sale sign in the window of your vehicle listing your asking price, odometer reading and contact info; that way you are constantly advertising the sale of your vehicle wherever you go. You can also post your vehicle for sale online on sites like AutoTrader or Craigslist and wait for people to contact you.
4.Gather Your Paperwork and Transfer Your Title – Once a buyer has contacted you and both of you have agreed to a selling price, the final steps are to gather the paperwork, receive your funds, and transfer the vehicle title. When you receive payment for your vehicle and prepare the odometer disclosure, transferred vehicle title, and bill of sale, you have successfully completed the process of selling your car!
When it comes to starting a food truck business, the first question is always "How much does a food truck cost?" If you're buying a used food truck from an owner, the standard price is around $50,000 – $100,000.  If you're looking for real world examples, you can go to the Roaming Hunger Marketplace, where you'll find pre-owned trucks, trailers, and carts for as low as $35,000 (or less).
The real costs of buying used, however, can be a lot more complex. While it may seem like a steal, buying a used, as-is food truck is like buying a home that's a fixer-upper.  What you see – and sometimes what you don't – is exactly what you get.
Below we'll tell you how to be a smart shopper as you invest in the most important piece of your new food truck business.
The Pros and Cons of Buying a Used Food Truck
Pros


Affordability
The price of a used, as-is food truck is significantly less than building or leasing a new truck. This can be a great fit if you're handy/resourceful, and willing to invest some time into fixing it up (instead of paying someone else to do the same). For more information, here's a handy guide on how the costs compare between a used and new food truck.
Possible Permits
A used food truck may already be permitted – ask the seller when and where to see if it's in the areas you want to serve. For more permit tips, check out our Tips And Tricks To Make It In The Industry article.
Cons


Warranties are likely expired
Newly built food trucks come with warranties, but on a used food truck the equipment is likely older: that means you're out of pocket when your fridge or generator breaks.
Unexpected repairs
Directly related – when you buy a used truck and cooking equipment, you aren't 100% sure what works and what doesn't.  Make sure you have some cash on hand to cover future repairs.
Outside financing is to get tough
Traditional lenders have a hard time evaluating the quality of a used food truck, so they'll likely choose not to loan at all.  Expect to pay cash.
No flexibility in layout
The kitchen layout and equipment that it comes with may or may not work for your food concept – it's hard to bake pizza on a truck designed for burgers.  So be ready to (possibly) compromise.
Permitting and inspection trouble
Just because the food truck was once on the road doesn't mean it'll pass permitting and inspection again or that it was ever permitted to begin with – so be doubly sure not to assume otherwise. 
Aesthetic problems
A used food truck might look a little rough.  Plan to put in some serious elbow grease or about $800 (standard) to have your truck professionally deep-cleaned. 


What to Do Before You Buy a Used Food Truck


Learn the truck's history. Ask for the VIN of the vehicle in advance and run it on VinCheck.info to look for accidents, liens, a salvaged title, mileage, etc. Remember, the truck probably had another life before becoming a food truck – that's normal – but you want to know as much about it as possible.
Check with local food truck authorities.  Do your research and talk to local government agencies about permitting and inspection requirements everywhere you expect to serve food. (Again – they might even be able to tell you if the truck you want to buy is already permitted to serve there!)
Create an inspection list. You'll want to focus on the condition of big ticket items like the generator, engine, transmission, and cooking appliances, but that's no reason not to check whether the turn signals work and how much tread the tires have.  Make sure to leave empty space to make notes next to each item during the walkthrough with the seller. 
Get expert's opinion. When you go to view the truck for sale, try to bring both a commercial automotive mechanic and also someone with experience cooking on a food truck. They should be able to advise both on the reliability of the food truck and also help determine whether it's a good fit for your needs.  Even if costs a couple hundred dollars for their time, this will be money well spent to ensure you're making a sound investment.
Decide what's important to you. Just like buying an older home on a budget, buying a used truck means you'll probably need to make compromises. Think hard about what's going to actually contribute to the success of your food truck business and use those answers to evaluate whether the used truck you're considering is right for you.

In conclusion, buying a used food truck means you need to put a lot more effort up front to make sure you're covered in the long run. Once you're on the road, you'll need a reliable equipment both on the road and in the kitchen. For more information on starting and growing a food truck business, read the advice food truck owners gave on starting a food truck business.