Vehicle Specs Library at Your Command
Access our extensive database of vehicle specs by VIN aggregated from government and industry partners.Seamlessly integrate VinAudit data into your own applications using a personal API key.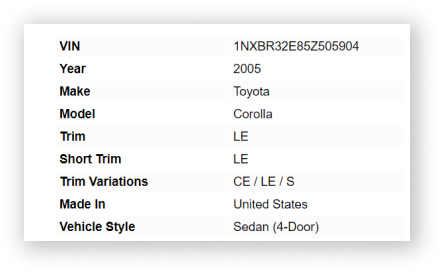 Vehicle Specification API gives access to information by VIN:
| | | | |
| --- | --- | --- | --- |
| Make and Model | the name of the brand and name of the specific design of the vehicle | Transmission | Transmission type, Manual, Automatic,CVT, numbers of gears |
| Year | year in which a particular vehicle is built and released for sale | Drivetrain | front-wheel drive (FWD), rear-wheel drive (RWD), all-wheel drive (AWD) |
| Trim | levels or version of a vehicle that is offered by the manufacturer | Curb Weight | the weight of the vehicle without any passengers or cargo |
| Style | overall design and aesthetic of the vehicle, including factors such as the exterior shape, body style (e.g. sedan, SUV, coupe), and other visual elements | Gross Weight | the maximum weight of the vehicle, including passengers, cargo, and any additional equipment or accessories that may be added |
| Type | particular type of vehicle, based on its intended use, design, and features (such as car, truck, SUV, van) | Standard Seating | the number of seats that come standard in the vehicle, and the type of seats, such as cloth or leather |
| Size | overall dimensions of a vehicle, including its length, width, height, and wheelbase | Steering Type | type of steering system used (rack and pinion, recirculating ball, or power-assisted steering) |
| Category | classification of a land vehicle or trailer for regulatory purposes | Suspension Type | linkages, springs, and shock absorbers |
| Country, City Made | country or city were the vehicle was manufactured | Invoice Price | the amount that the dealer pays the manufacturer for the vehicle |
| Doors | the number of doors on the car, their type, and their opening mechanisms | Delivery Charges | the cost of transporting the vehicle from the manufacturer to the dealer |
| Fuel Type and Capacity | the type of fuel that the vehicle is designed to run on and the maximum amount of fuel that the vehicle's fuel tank can hold | Manufacturer Suggested Retail Price | the price that the manufacturer recommends the dealer sell the vehicle for (often referred to as the sticker price) |
VinAudit Car Specs API: Features and Benefits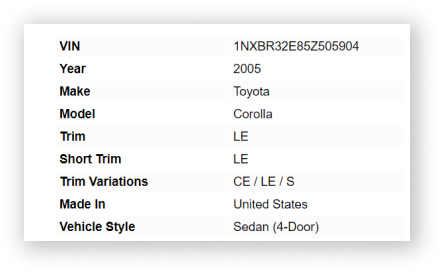 One-Stop Solution
Automate access to all relevant data that describe any vehicle's capabilities and performance
Your Brand, Our Data
Market vehicle specs by VIN under your own brand or ours. VinAudit offers "unbranded data"
Customizable Integration Assistance
Our technical support team is on standby to cater to your specific vehicle data needs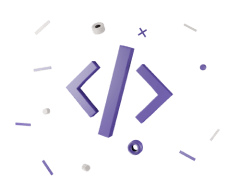 Easy & Fast Integration with your system
Integrating the data is fast and easy and if you're familiar with APIs you can be literally up and running within just a few minutes
What is a Vehicle Specifications API?
The role of an Application Programming Interface (API) is to facilitate the exchange of information between software programs and data providers such as VinAudit.com. By partnering with us, you gain the benefits of our extensive database, which is safeguarded by robust security authentication processes. The VinAudit Car Specs API provides access to a library of vehicle specifications data covering attributes, color options, equipment details, recall information, warranties, and photos. It also allows for a "selections" request that can be used to retrieve lists of vehicles based on their year, make, model, trim, style, or ID.
How to setup VinAudit Vehicle Specifications API