Vehicle History with Mileage Check: VIN Search
When buying a used car, it's important to ensure that you're getting what you're paying for. One of the most common ways that used vehicle buyers are deceived is through odometer fraud, where the odometer is rolled back to show a lower odometer reading than the car actually has. To protect yourself from this type of deception, it's essential to check car mileage by VIN before purchasing it.
Mileage check (VIN lookup) refers to verifying the car's accurate total miles traveled using the vehicle identification number (VIN). The VIN is a unique code, consisting of 17 characters which identifies every vehicle. The exact location of the VIN may vary depending on the make and model of the vehicles. The most common locations include the dashboard, door jamb, engine block, and manufacturer's sticker. It is also indicated in the vehicle title, insurance documents, and registration documents.
According to a study conducted by Carfax and published at
jalopnik.com
, below are the top 10 states with the highest number of odometer rollback cases.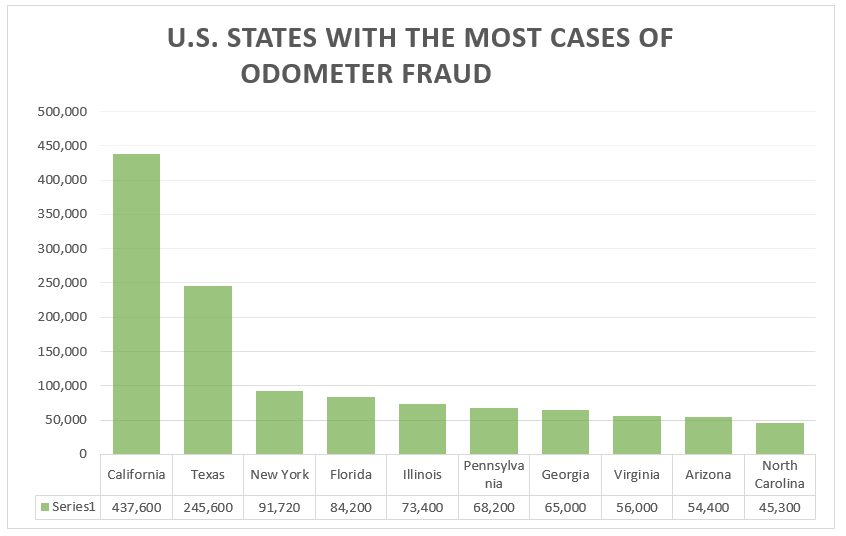 How to check used car mileage with VIN number
You may start by inspecting the odometer. Check for any signs of tampering, such as loose screws, broken seals, or mismatched numbers. Some consider this the most accurate method. However, it can be time-consuming and requires some technical knowledge to determine if the odometer has been tampered with.

Using the VIN, mileage checks are so much faster and can be done online by anybody:

Online services allow you to check a car's mileage history, including any discrepancies or odometer rollback records. These services typically charge a fee, but you may get a free VIN check report in some automotive marketplaces.

Vehicle history reports usually include the car's odometer reading history. These reports are typically generated by third-party providers and contain information about the car's ownership, accident history, and other important vehicle details. A car report is readily available online but often offered as a paid service.
Why should I run a mileage check (VIN search)?
Protection from odometer fraud
Odometer fraud is a common problem in the used car market and it can be prevented by mileage (VIN) checks. If a seller is found guilty of odometer fraud, they can face legal consequences and be required to compensate the buyer for any financial losses.


Maintenance and servicing
Cars with higher miles on the road may require more frequent oil changes, brake replacements, and other repairs compared to cars with lower readings. By knowing the car's usage history on the road, you can estimate its maintenance and servicing needs and plan your budget accordingly. This information can help you avoid unexpected repair costs and keep your car in good condition for longer.


Resale value
Generally, cars with lower readings of total distance traveled tend to have a higher resale value; they are perceived to have less wear and tear and are considered to be in better condition. With a mileage (VIN) check, you can verify the accurate reading and the condition of the vehicle. After checking the value of a vehicle for resale, you can negotiate a fair price.


Warranty and insurance
Some warranties and insurance policies have mileage limits, and if you exceed those limits, you may not be eligible for coverage. Based on the total miles traveled, you can verify if it's still covered under warranty or if you need to purchase additional coverage.
VinAudit vehicle history report: Mileage check (VIN search) and more
As an official NMVTIS provider,
Vinaudit.com
is an excellent source of information on total miles on the road. Our car history reports provide a detailed overview of vehicle specifications and history, including its ownership history, accident reports, salvage title status, and odometer reading records. Each report is compiled using information from various sources, such as state DMVs, insurance companies, salvage, and junk yards, non-government entities, and other sources in the automotive industry.
Check the mileage and other information you need in one place for a fraction of the competition's price. It's a cost-effective and time-saving solution to help you make an informed decision. Run a VinAudit vehicle history report today.