What is a salvage rebuild?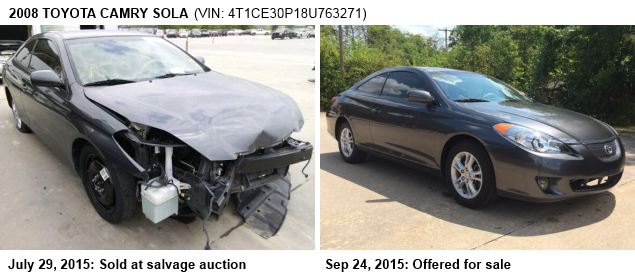 When a vehicle has been in an accident, vandalized, or otherwise damaged by weather such as flood or hail, and repairs will cost more than the vehicle is worth, the insurance company will deem it a total loss and take possession.  Most state laws set the threshold on the amount of damage needed to declare a car totaled between 51%-80% of the vehicle's actual cash value.  Insurers will then sell these vehicles at auctions to salvage yards and rebuilders.  The vehicle will be issued a salvage title to warn future buyers that an insurance company has determined it a total loss.  In most states, the physical title is actually a different color than a "clean" title.
Once these vehicles are repaired, the owner can apply for a "rebuilt" title.  Typically, a rebuilt title is only issued after the repaired vehicle is inspected by the state's DMV or jurisdiction that issues titles.  If the repairs are satisfactory, the title is changed from "salvage" to "rebuilt".  However, one must note, that in most cases, the inspector will visually inspect the vehicle and the repairs that were done, and will verify that basic systems like headlights, tail and brake lights, horn, windshield wipers and exhaust work properly, BUT they will rarely drive the vehicle or verify that safety systems, like airbags, are operational.
Why is it dangerous to buy a salvage rebuild?
Since a car with a "rebuilt" title has suffered enough damage to earn it a salvage title, even if it looks good from the outside and passes the required inspection, the severity of the damage can be destructive to a car's structural integrity.  Besides the obvious safety concerns with a vehicle that may not be structurally sound, here are a few other reasons to think twice before buying a salvage rebuild:
How do I protect myself from the risks involved?
Regardless of how well it was repaired, a vehicle with a salvage or rebuilt title will never be as good as one with a clean title.  While shopping for your next used car, here are some important points to keep in mind to protect yourself from making a bad decision: